For many of us, Harrison Ford was a staple of our childhood, the dashing space rogue, the dashing archelogy professor/adventurer. You might have played with at least one action figure in his image (perhaps you should have collected it, kept it safe on the shelf). As he aged, his roles did too. He was the changed man in "Regarding Henry," the innocent man in "The Fugitive," the leading, ruggedly romantic one in many films including "Working Girl." And of course, he's been the president.
Not taking an acting class until his senior year of college, Ford once described himself as a "late bloomer," but unlike some artists of his generation, he continues to be allowed to grow. He's starring in two, top-rated shows at the moment, and has a slew of new movies on the way, including a new "Indiana Jones" film. He's also 80. 
In continuing to perform, Ford is giving us much-needed pictures of older lives, stories and identities. His grandpa renaissance is helping us see seniors more clearly — helping us see them at all. 
Ford is the anchor for two currently streaming shows: "1923," Paramount's latest prequel to the juggernaut "Yellowstone," and "Shrinking," the sweet Apple TV+ comedy also starring Jason Segel and Jessica Williams. 
Do we need to see a senior citizen, decades older than most men of the 1920s even lived, galloping on a horse? Yes, I think so.
In "1923," Ford holds the reins as a formidable Dutton ancestor, Jacob. Salon's Melanie McFarland describes Ford as "the nation's favorite cowboy-swashbuckling archaeologist-president rolled up in one." As Jacob, he's tough love, emphasis on the tough. He's ruthless and unemotional, a patriarchal force to be reckoned with, as much as the rugged western land and its elements. But Ford's Jacob is also active, passionate and vigorous as well as vinegary. Do we need to see a senior citizen, decades older than most men of the 1920s even lived, galloping on a horse? Yes, I think so.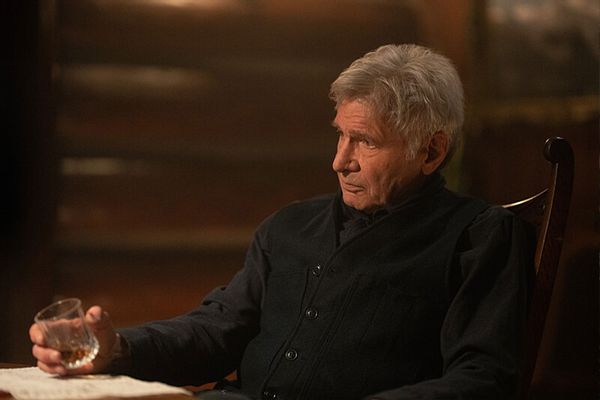 Harrison Ford as Jacob Dutton in "1923." (Christopher Saunders/Paramount+ )Like Jacob, Ford and wife Calista Flockhart own a sprawling ranch in the west — specifically, Wyoming — but they have donated about half of their 800 acres to a nature reserve. Ford also finds commonalities to his life with his role in "Shrinking," though he declined to tell The Hollywood Reporter much about it, only alluding in an interview, "There are issues with [the character's] family — which are not the same issues I have with my family. But there are things we worked our way through, so I found an emotional reality to attend to." Ford has five children. 
In "Shrinking," he continues to work — and work well — as Dr. Paul Rhoades, a therapist in the same practice as Segel's unorthodox (to put it mildly) Jimmy Laird and Williams' personable Gabby. Paul is the boss and mentor, a therapist with a heart of grit. He's outspoken, and what he speaks is usually caustic. His grandpa ribbing includes mocking Gabby's gigantic water bottle (only to start toting the smaller one she gives him).
But Ford elevates the curmudgeon. His character has Parkinson's Disease, a condition Ford does not share, yet his portrayal is relatable enough many viewers have been asking (family members of the co-creators of the show reportedly have related illnesses). Paul hides his diagnosis at first, particularly from family. Parkinson's pisses him off, but he also learns to live with it openly.
He's hip, despite having problems with his hips.
Paul has a full and vibrant life, especially once he starts letting people in. He makes a connection with Jimmy's teenage daughter (Lukita Maxwell as Alice), grieving the recent and sudden loss of her mom and dealing with a strained relationship with her dad. They meet for unofficial therapy sessions on park benches. Paul reveals a love for candy, potatoes and a hat (it's Ford's own).
Harrison Ford in "Shrinking" (Apple TV+)He's a grandpa but he's a cool grandpa. He's hip, despite having problems with his hips. He dates his medical doctor (which seems like it might be an ethics violation, but the charming show is actually full of those). Yes, 80-year-olds can fall newly in love. Yes, they can wear cool hats and look frankly, much better and more stylish than other characters half their age. Yes, they can sing along to Sugar Ray.
Yes, they can have too many of a friend's weed gummies because they're sad and yes, they can decline party invitations just to stay at home with a blanket and drink wine on the couch. Eighty-year-olds! They're just like us! And yes, there are new stories, many stories, waiting to be told about them. 
---
Want a daily wrap-up of all the news and commentary Salon has to offer? Subscribe to our morning newsletter, Crash Course.
---
We need Ford as much more than just a ghost in "Star Wars." He told The Hollywood Reporter, "I know who the f**k I am at this point." And as Jacob in "1923," he growls, "Tell the world what happens when they cross me." But the world also needs to know what happens when we age, needs to continue to dramatize senior stories and to develop fully realized and compelling roles like Paul. Tell the world to pay attention and stop looking away. 
Read more
about Harrison Ford